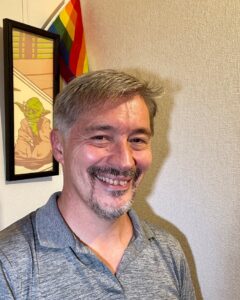 About me: OLIVIER FABRE
ファーブル・オリビエ
About me – Born in Paris, he was raised in Madras (now Chennai) and Tokyo, his grandmother's home town, before going to college in the London. After working as a student intern at the Nihon Keizai Shimbun and briefly at Diamond Publications after graduating from university, he joined Reuters in 1995, where he worked for 25 years as both pen reporter and news video producer. For over 20 years he also led a team of video journalists covering major news events in Japan and overseas. 10 years ago, Olivier also founded the Tokyo chapter of the company's LGBTQ+ Network, and worked with the company's human resources department to introduce benefits for same-sex partners. After leaving Reuters in 2019, he has been working as a freelancer for media companies, and as the global communications officer for Japan's first comprehensive LGBTQ+ center Pride House Tokyo Legacy and the Tokyo Rainbow Pride organization. Olivier lives with his dog, Gaspard, his Japanese partner of 18 years. His hobbies include food and travel.
Anyone interested finding out more about me, hiring me for freelance jobs or for speaking opportunities, please contact me through the enquiry form.
パリ生まれ、インド、日本育ち。8才で祖母の生まれ育った東京に移り住む。学生インターン時代を日本経済新聞、また大卒後は一時的にダイアモンド出版を経て、1995年にロイター通信に入社。その後25年間ペン記者やニュース動画制作で幅広く活躍しながら、20年間ビデオジャーナリストのチームも任され、日本や世界のニュースを取材した。また、10年前、会社のLGBTネットワークの東京支部を設立し、人事部と協力して同性パートナーのための福利厚生を導入した。2019年に退職した後は、メディア会社のフリーランスとして活動する傍ら、日本初のLGBTQ+総合センター「プライドハウス東京レガシー」や「東京レインボープライド」のグローバル・コミュニケーション・オフィサーとしても活躍。今は18年来の日本人パートナーである愛犬のガスパールと暮らしていて、趣味は料理と旅行。
一緒にお仕事したい方、採用したい方、また講演にの機会を得たい方は、お問い合わせフォームからご連絡ください。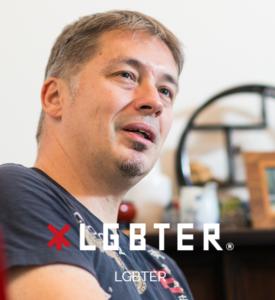 Third generation Japanese, French & Brit. Born in Paris, lived in Chennai, London & Singapore, but worked & lived mostly in Tokyo. Global nomad or TCK, LGBTQ, gay, cis-male. Ritualist atheist, trilingual sometimes, bilingual most of the time, but semi lingual sometimes, foodie, traveler, former journalist, part-time activist. Video Editor, Video Camera Operator, Youtuber (wannabe), Japanese-English, French-English translator.
日本、フランス、イギリスが混ざった日系3世。パリで生まれ、チェンナイ、ロンドン、シンガポールに住んだことがあるが、一番長いのが東京。グローバル・ノマドまたはTCK、LGBTQ、ゲイ、シス男性。儀式的無神論者、時々トリリンガル、多くの時はバイリンガル、たまにセミリンガルと自負。美味しいもの、旅行などの好きな元ジャーナリスト、パートの活動家。動画編集者、動画カメラマン、ユーチューバー初心者、日英、仏英翻訳者