Tokyo same-sex partnership is not a 'de-facto' marriage.
News of Tokyo Governor Yuriko Koike's announcement that the Japanese capital will be looking to introduce same-sex partnership certificates by next year is widely being celebrated by the local LGBTQ+ community as good news. And it certainly is. 
Tokyo will be joining an already long list of cities, towns and prefectures that have done the same. As of Oct 11, 2021, 130 municipalities and administrations across the nation recognize same-sex couples, according to a survey compiled by Niijiro Diversity and Shibuya City. With in the Japanese capital, some 12 boroughs or wards including Shibuya, already recognize same-sex couples.  
However some early reports from the foreign press have called this recognition 'de-facto marriage' and claim it would give the LGBTQ+ community rights we previously did not have.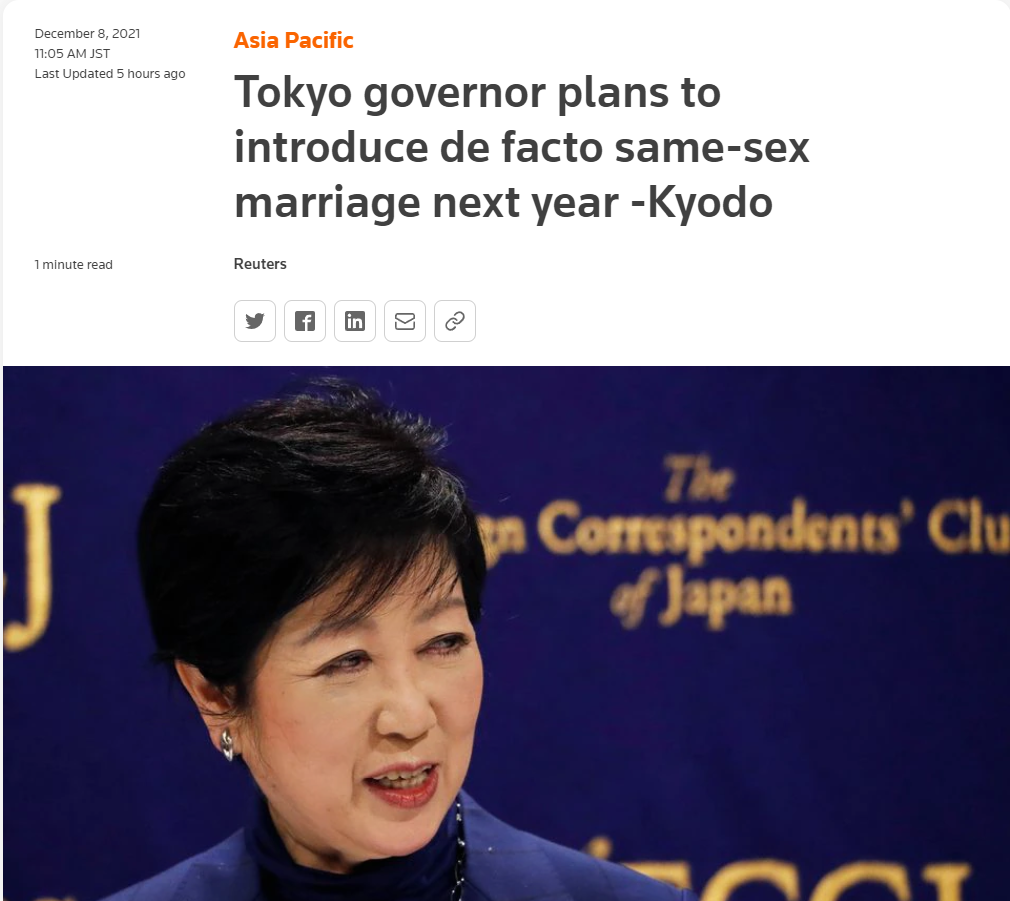 Reuters December 8, 2021 headline with file photo of Tokyo Governor Yuriko Koike.
Unfortunately that is not correct. 
Japan does not recognize marriage equality and same-sex couples continue to face discrimination in housing, visitation rights, tax and inheritance rights.  While local majors and governors, including Tokyo Governor Yuriko Koike, may say that the certificates will help beat discrimination in at least housing and hospital visitation rights, without any legal muscles to back it up, it remains just symbolic at best. 
Many of us the LGBTQ community in Japan all have had friends refused hospital visitation rights or housing, even in some of the districts in Tokyo that recognize same-sex partners. There is little indication that, unless the hospital is a municipal hospital or housing is public housing, Koike's partnership system will be any different. 
However the announcement is a huge symbolic victory for the community.  With the addition of Tokyo, a city of 14 million people, that would mean that in cities and towns representing over 50 percent of the nation's population, same-sex partner certificates would be available.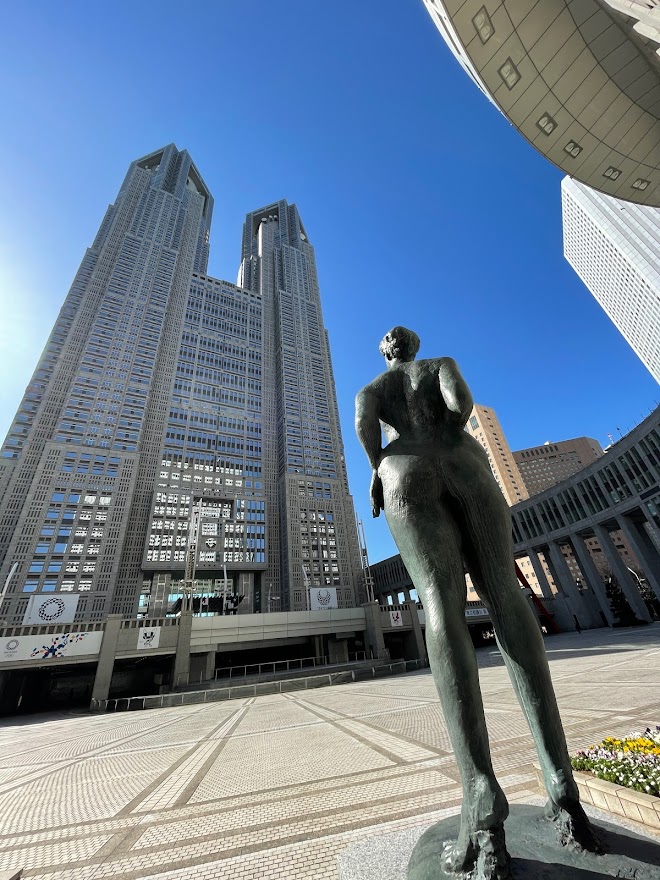 The Tokyo Metropolitan Government building in Tokyo, 2021 (Copyright : Olivier Fabre ) 
The existence and growth of these partnership certificates will also highlight how out of touch the current ruling party is with the general public. 
For it is the central government that makes the laws that the LGBTQ community needs changed. But currently the government is ruled mostly by the conservative Liberal Democratic Party, a party not known for being particularly LGBTQ friendly. 
In the last election, earlier in the fall of 2021, the LDP was the only party which did not include  same-sex marriage in its election agenda. Prime Minister Fumio Kishida was the only party leader not to raise their hand during the main election debate when asked by a reporter which party supports same-sex marriage. The LDP is also infamous for also producing politicians that say things like "the LGBTQ community does not deserve having tax money used on them because they are not 'productive' members of society" or who somehow suggest we could be the cause of the nation's declining birthrate. 
So the Tokyo same-sex partnership certificate system will hopefully also show them how wrong they are.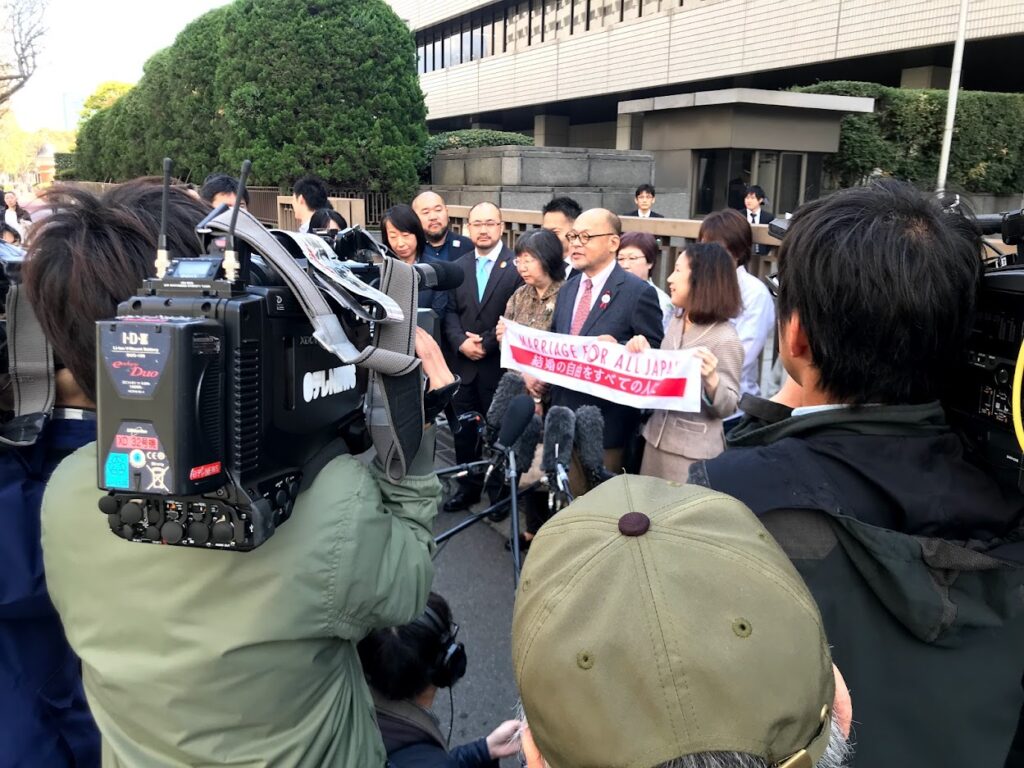 The late Ikuo Satō, one of the seven original plaintiffs in the Marriage Equality lawsuit, talking to media after the first court appearance in Tokyo on April 14, 2019. Sato has since then passed away unable to marry his partner of 16 years as he said in court he was hoping to do.  (Copyright : Olivier Fabre ) 
Similarly it is hoped that Koike's announcement will influence the judges in the lawsuits demanding marriage equality in Japan. 
Opinion polls suggest that there are nearly as many people in Japan who support same-sex marriage as in the US and France. And much of this support in recent years comes since the first same-sex partnership certificate in the Shibuya borough (ward) in 2015. 
The first verdict in series of lawsuits brought about by members of the LGBTQ community against the government for failing to guarantee equality under the law by not allow same-sex couples to marry was in Sapporo in April of 2021. According to one of the lawyers in the lawsuit, Takeharu Kato, it was ground-breaking. 
While it gave the government some slack for failing to allow same-sex couples because "the demand for this law is recent," it nevertheless concluded that failing to provide marriage equality was unconstitutional. 
Four more court cases are ongoing, including one in Tokyo, which is due to reach a verdict by early summer 2022. Many hope Tokyo Governor Koike's decision will help the community's case. 
At very least, the LGBTQ+ community hopes the same-sex partnership will not be seen as a "de-facto marriage" as this could let the ruling party off the hook in providing sexual minorities with the same rights as every one else.