Pride Events October 30-November 30

Pride events across the world continue to be restricted by Covid-19 measures, politics and in some places a surge in new cases. However many are resorting to creative ways to keep our Pride spirit up. 
October 30 – Taiwan Pride 
First up next Saturday on Oct 30 is the Taiwan Pride. This is Asia's largest LGBTQ+ pride parade in normal years and the nation's annual rainbow bash. However, unlike last year, when it was one of the few pride parades in the world to be held in person and drawing at least 130,000 according to some media sources, this year it will be held online in response to current COVID-19 restrictions and a recent surge in coronavirus cases in Taiwan over the summer. 
That said, Taiwan remains one of the region's and the world's most successful in keeping the pandemic under control. The island has now only 1 percent of its earlier peak cases.  
Taiwan has also led LGBTQ+ rights in the region. It became in 2019 the first Asian country to legalize same-sex marriage. However, according to Taiwan News, organizers said in a press conference that things have not changed since the change in the law. They urge for a need to improve social perception of the LGBT+ community, even if "there is now a more welcoming social atmosphere".
Media reports say people will be able to participate online in the parade even from overseas. LED trucks will also follow a traditional parade route through Taipei to give residents of the capital a physical sense of a parade too. 
Check here to check out the details online. 
https://event.taiwanpride.lgbt/
November 13 – Hong Kong Pride Parade 
Meanwhile Hong Kong holds its own Pride event two weeks later on November 13.   It too has had to cut down its parade and rallies, citing on its website "countless reasons". Instead, it has opted for an indoors "Rainbow Market" instead. 
This is the second year in a row it will be holding its event online. 
The market will consist of around 30 small booths of different types of LGBT supportive businesses, and another section of around 20 booths of sponsors, participating groups and the official activity booths of Hong Kong Pride Parade. There will be another area dedicated to rainbow art installations for those wanting to take photos.
Hong Kong's scaled down Pride Festivities comes among what some see as a crackdown on LGBTQ+ groups and social media accounts on the mainland in order to reinforce a social norm dictated by Beijing. 
It also follows a clamp down on freedoms of political expression in the territory since the imposition of the national security law. 
According to Reuters, Hong Kong also has one of most stringent travel restrictions in the world and is virtually COVID-19 free, and the Chinese-ruled city has no public plan for opening up to international travelers.
Check here to check out the details online. 
November 17 – Ghana's "Love for All" 
According to the Interpride Pride Calendar, the West African nation of Ghana will hold its Pride events on November 17. It however will all be behind closed doors. This is because the majority Christian African nation is considered one of Africa's least tolerable for LGBTQ+ activists, according to the pan-African, independent, non-partisan research network Afro-barometer. Furthermore while the persecution of homosexuals is widespread and gay sex is already punishable by up to three years in prison, if a draft law now being debated in parliament passes, it will make it a crime to be LGBTQ or to advocate for LGBTQ rights and will impose longer prison terms. 
At the nation's main international airport of Accra, a sign welcomes visitors stating "Ghana imposes extremely harsh penalties on sexually abhorrent behaviour. If you are in Ghana for such activity, then for everybody's good, including your own, we suggest you go elsewhere," concludes the sign.
No website available.  Check https://en.wikipedia.org/wiki/LGBT_rights_in_Ghana for more information. 
November 15 – Sydney Lesbian and Gay Mardi Gras tickets go on sale. 
Sydney's Lesbian and Gay Mardi Gras Organizers announced earlier this month (October 14) it was holding its annual Pride parade within the Sydney Cricket Grounds (SCG) on March 5, 2022 for the second year in a row.   
According to the official website, "organisers have decided that returning to Sydney Cricket Ground in 2022 provides the best chance for the Parade to proceed, no matter what the COVID situation determines early next year."  But they promised the parade will return to the city's iconic Oxford Street in 2023 and in time for the WorldPride.
Holding the festivities at  the Sydney Cricket Grounds meets "requirements of physical distancing and contact tracing, two significant COVID Safe operational requirements of New South Wales Health authorities", they said on their website. They added they are charging a "small" as-of-yet-undetermined fee in order to cover the costs of "operating a COVID safe venue". 
Check https://www.mardigras.org.au/ for more information and tickets sales. 
Japan Pride Events 
November 6 (Sat) -November 7 (Sun) – Kyushu Rainbow Pride 
One of the largest Pride events on the south western island of Kyushu, known for its old patriarchal traditions, and newer entrepreneurial spirit, is online for the second year in a row.  
Online  Booths 10:00~17:00 /online parade: November 7 13:00~)
Mystery Solving Stamp Rally and Rainbow Mapping are being held from October 1 to November 7
See for more details:  https://9rp.biz/
November 7 (Sun) – Nara Rainbow Festa
The ancient Japanese capital of Nara holds its fourth ever Pride festival. Unlike last year, where it had to host the festival online, this year it is returning to the Umami-Kyuryo park, which is a quick stroll away from ancient tumuli dating back thousands of years . While there is no marching at this event, expect dancing, singing, comedy performances and much more throughout the day from 10:00-15:30. 
Check: https://innara.webnode.jp/ for more information. 
November 28 – MOMONIJI OKAYAMA RAINBOW FESTA 
Postponed from an earlier date in September, the city of Okayama of Momotaro fame holds central Japan's first ever Pride Parade.  Kicking off from Ishiyama Park overlooked by Okayama castle , you will need to follow them on facebook for more details. 
https://www.facebook.com/2020Okayama/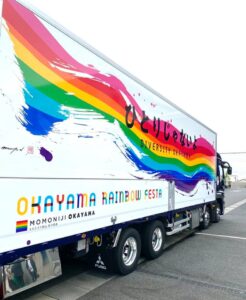 Also you may have noticed a colorful truck painted with a rainbow and advertizing this festival driving across the nation on major highways. If so that is the Rainbow Truck Okayama seeking to raise awareness about diversity nationwide. Check out the facebook page for the truck's latest itinerary.
Let me know in the comments section below if I have missed any events you are interested in. I will try to update them if possible. 
プライドイベント 10月30日~11月30日

世界各地のプライドイベントは、政府の対策や政治的な理由で制限され続けており、また、新たな事件が急増しているところもあります。しかし、多くの人が工夫を凝らしてプライドを維持しています。 
10月30日 – 台湾プライド 
今度の10月30日土曜日に開催されるのが「台湾プライド」です。これは例年、アジア最大のLGBTQ+プライドパレードであり、国の恒例行事である虹の祭典です。しかし、昨年は世界でも数少ない対面式のプライドパレードで、一部のメディアによると少なくとも13万人を動員したのですが、今年はCOVID-19の規制や、夏に台湾でコロナウィルスの感染者が急増したことを受けて、オンラインで開催されます。 
とはいえ、台湾は地域的にも世界的にも、パンデミックの抑制に最も成功している国の一つです。現在、台湾での感染者数は、ピーク時の1%にとどまっています。  
また、台湾はこの地域のLGBTQ+の権利をリードしてきました。2019年にはアジアで初めて同性婚を合法化した国となりました。しかし、台湾ニュースによると、主催者は記者会見で、法改正後も状況は変わっていないと発言。彼らは、「より歓迎される社会的雰囲気になった」としても、LGBT+コミュニティに対する社会的認識を改善する必要性を訴えています。
報道によると、海外からでもオンラインでパレードに参加できるようになるとのことです。また、LEDトラックが伝統的なパレードルートに沿って台北市内を走行することで、首都に住む人々にもパレードを体感してもらうことができます。 
詳細はこちらからご覧いただけます。 
https://event.taiwanpride.lgbt/
11月13日 – 香港プライド・パレード 
一方、香港では2週間後の11月13日に独自のプライドイベントが開催されます。   香港もまた、「数え切れないほどの理由」を理由に、パレードや集会を縮小しなければなりませんでした。その代わりに、屋内で「レインボーマーケット」を開催することにしました。 
今年は2年連続でオンラインでの開催となります。 
このマーケットは、LGBTを支援するさまざまな業種の小さなブース約30軒と、スポンサーや参加団体、香港プライドパレードの公式活動ブース約20軒で構成されています。また、写真を撮りたい人のために、レインボーアートを設置したエリアも用意されています。
香港のプライドフェスティバルが縮小されたのは、北京が指示する社会的規範を強化するために、本土のLGBTQ+グループやソーシャルメディアのアカウントが取り締まられているとの見方があるためです。 
また、香港では、国家安全保障法の施行以降、政治的表現の自由が制限されています。 
ロイター通信によると、香港は世界で最も厳しい渡航制限を行っており、実質的にCOVID-19が存在しない状態であり、中国の支配下にある香港では、海外からの旅行者に開放するための公的な計画はありません。
詳細はこちらをオンラインでご確認ください。 
11月17日 ガーナの "すべての人に愛を" 
Interpride Pride Calendarによると、西アフリカのガーナでは、11月17日にプライドイベントが開催されます。しかし、それはすべて非公開です。アフリカのキリスト教国であるガーナは、LGBTQ+の活動家にとってアフリカで最も寛容でない国のひとつであると考えられているからです。さらに、同性愛者への迫害が蔓延しており、ゲイセックスはすでに3年以下の懲役刑に処されていますが、現在議会で審議されている法律案が通過すると、LGBTQであることやLGBTQの権利を主張することが犯罪となり、より長い懲役刑が課せられることになります。 
ガーナの主要国際空港であるアクラでは、訪問者を歓迎する看板に「ガーナでは、性的に忌まわしい行為に対して非常に厳しい罰則を課しています」と書かれています。そのような行為のためにガーナを訪れたのであれば、あなた自身のためも含め、皆のために他の場所に行くことをお勧めします」と書かれた看板が出ています。
ウェブサイトはありません。  詳しくは https://en.wikipedia.org/wiki/LGBT_rights_in_Ghana をご覧ください。 
11月15日 – シドニー・レズビアン&ゲイ・マルディグラのチケット発売開始。 
シドニーのレズビアン&ゲイ・マルディグラ主催者は今月初め(10月14日)、2022年3月5日にシドニー・クリケット・グラウンド(SCG)内で毎年恒例のプライド・パレードを2年連続で開催することを発表しました。   
公式サイトによると、"主催者は、COVIDの状況が来年初めにどう決まるかに関わらず、2022年にシドニー・クリケット・グラウンドに戻ることが、パレードを進めるための最良のチャンスになると判断しました。" とのことです。  しかし、2023年には街の象徴であるオックスフォード・ストリートにパレードを戻し、WorldPrideに間に合わせることを約束しました。
シドニー・クリケット・グラウンドでの開催は、「物理的な距離を置くことと、接触者を追跡すること、ニュー・サウス・ウェールズ州保健当局が求めるCOVIDセーフの2つの重要な運用要件」を満たすものであると、彼らはウェブサイトで述べています。また、「COVIDセーフな会場を運営する」ための費用を賄うために、「少額」の未定の料金を徴収しているとのことです。 
詳細情報やチケット販売については、https://www.mardigras.org.au/
をご確認ください。 
国内プライド・イベント 
11月6日(土)・11月7日(日)九州レインボープライド 
伝統と新しい起業家精神で知られる九州の最大級のプライドイベントが、2年連続でオンラインで開催されます。  
オンラインブース 10:00~17:00 /オンラインパレード:11月7日 13:00~
10月1日から11月7日まで、「謎解きスタンプラリー」と「レインボーマッピング」を開催中
詳細はこちらをご覧ください: https://9rp.biz/
11月7日(日)奈良レインボーフェスタ
日本の古都・奈良では、今年で4回目となるプライドフェスティバルが開催されます。昨年はオンラインでの開催でしたが、今年は数千年前の古墳群からすぐ近くの馬見丘陵公園で開催されます。このイベントでは行進はありませんが、10:00-15:30の間、ダンスや歌、コメディーパフォーマンスなどが行われます。 
詳細は 
をご覧ください。 
11月28日 – MOMONIJI OKAYAMA RAINBOW FESTA 
桃太郎でお馴染みの岡山市で、9月に延期された日本中央初のプライドパレードが開催されます。  岡山城を望む石山公園からスタートし、当日の詳細はfacebookで確認してください。 
https://www.facebook.com/2020Okayama/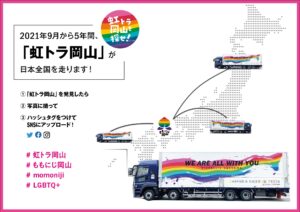 また、虹色に塗られたカラフルなトラックが全国の幹線道路を走っているのをご存知でしょうか。これはレインボートラック岡山と呼ばれるトラックで、全国的にダイバーシティへの関心を高めようとしているのだそうです。このトラックの最新の旅程は、フェイスブックをご覧ください。
ご興味のあるイベントがありましたら、下記のコメント欄でお知らせください。可能な限り更新していきたいと思います。